Directions to CPT
CPT is located adjacent to Virginia Tech's main campus in Blacksburg, VA. Blacksburg is about 38 miles southwest of Roanoke, Virginia.
From I-81, traveling north or south, take the exit labeled "Exits 118 A, B, C." (Note: there is only one exit ramp serving the three exits; if you miss the ramp you'll have to go north to Exit 128 or south to Exit 114 to turn around.)
Take Exit 118 B to US 460 West. Keep following the signs that say "460 W" or "Virginia Tech."
Follow US 460 W for 8.5 miles, past the entrance to Virginia Tech's "Central Campus", and take the exit labeled "Price's Fork Road - Downtown."
Travel east on Prices Fork Road through three traffic signals (University City Blvd., West Campus Drive, and Toms Creek Rd./Stanger St.).
The Center for Photonics Technology is housed in the Collegiate Square Shopping Center, located on the corner of Turner Street and Prices Fork Road. The parking lot is accessible from either Turner Street or Prices Fork Road (see detail map at right below).
CPT is on the third floor of the building that fronts Prices Fork Road. The elevator is located in the breezeway between New Tech Fitness and the Next Door Bakery.
Overview Map: Blacksburg, VA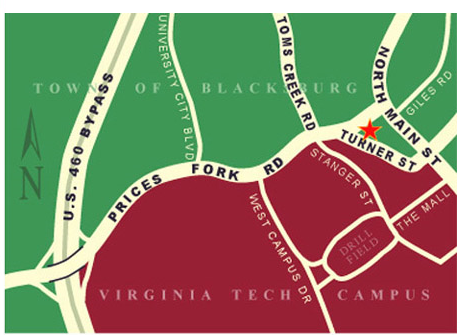 Detail Map: CPT Facility